"Unity for Action" x Zargara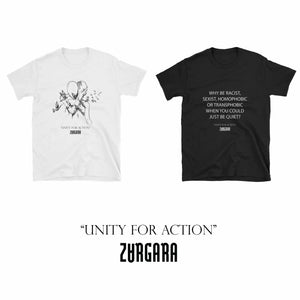 "Unity for Action" is a non-profit, student-run organization based in the University of Ottawa. Its mission is to connect, motivate and inspire individuals and use their passions to create a positive change in society. Each year the club puts together an original production and donates all the proceeds to a youth charity. This year, all proceeds will go to LGBT Youthline. LGBT Youthline is a crisis hotline based in Toronto that supports the experiences of youth (29 and under) across Ontario. To this date, LGBT Youthline has helped over 35 000 users. With the support of Unity for Action, LGBT Youthline will continue to thrive in realizing their vision of all sexual and gender identities being celebrated and supported.
We did these two designs in partnership w/ "Unity for Action"
The black shirt's graphic is from a Tee that Frank Ocean wore and the white shirt's graphic is referencing our gender is irrelevant to the fact that we are all HUMAN.
All the profits from the shirts went to "Unity for Action" + we still have a few shirts available if you are interested.